We are offering a huge selection of Preowned and Consignment Guitars and Basses
Now offering -Guitar Repair Workshops at Tim's Guitar. UPDATED 9-29-2020 NOT AVAILABLE AT THIS TIME

WILL UPDATE PAGE WHEN MORE CLASSES BEGIN!
Tims Guitar Workshop class 101
Basic- Intermediate maintenance and setup.

Over the past 42 years of guitar repair and restorations we have decided to offer workshops that deal with guitar adjustments and repairs as well as setups that can be done by you the musician and guitar enthusiast. While being the Authorized Factory Service for Fender, Gibson, Guild, Martin, Ovation, , Taylor, Takamine, and many other guitar companies we see a trend of problems that occur often. When we were not allowed to basically set up a new guitar under warranty due to wording in OUR Warranty Agreement package -INSTEAD- it was the store that sold the guitars responsibility by their own Dealer Agreement package to adjust and present the instrument to the retail consumer fully adjusted and ready to play, we decided to offer this course. Our hands were tied to these agreements and the customer was getting the royal run around!

This course is designed for the person that may have significant investment in personal instruments and needs to understand the correct steps to adjust and maintain them. From correctly installing and choosing the right strings and gauges to understanding how neck to body aim (neck set) relationship should be on acoustic and electric guitars. We also go over the correct sequence of steps that is essential to getting your guitar to play correctly so that you can achieve the most satisfaction when performing with your instrument. This course will be offered to limited groups so you will have actual hands on involvement in these tasks. Many classes around the country that offer similar instruction are lecture based only and do not allow for hands on participation. We will work in our shop and tools and supplies will be provided. At the end of this course many of the essential tools used will be offered for sale if needed.

Price $$$
Time 2.5 hours +/-
Deposit $95 required 5 days before course date.
Look for the workshop times and schedule near the top of each page!

New Eastman guitars have arrived! These guitars are completely hand made acoustics with french dovetail neck to body construction (no bolts) like the finest guitars ever made. Why do we like them so much? Aside from being totally hand crafted these instruments use the finest quality solid woods in production. The USA sells most of our tone woods to the orient so most of the guitars built in Japan, Korea, China start with better woods than many of our stateside manufactures use. Second, these guitars use Nitrocellulose lacquers on all 300 series and higher models. This is an expensive finish used on some of the highest dollar USA instruments and due to its very thin coating has a superior sound than thick urethanes, UV coatings, and Polyester type finishes. Third, these guitars already come with real bone nut and bone saddle material (one of the most common upgrades that we are do in our shop everyday). Fourth, you will not believe the sound that these instruments produce at prices less than half of the closest competition. Before I forget they all come with quality hardshell wooden cases. I personally go over each guitar and adjust them for you before it goes home. We will install any LR BAggs , Fishman , or K&K pickup for you on any model no charge on the labor! Take time out to come by our shop and play these amazing instruments. We have the new NON PORE-FILLED finish options that sound like the guitar has been played for years right out of the box. We have your next guitar right here at Tims Guitar Workshop!
Still the best selling Acoutic pickups are the LR Baggs Anthem, Anthem Session VTC, Fishman Infinity Matrix, and Matrix Mic blend. If you have been putting off installing a pickup in your acoustic or if your 30 year old one is still limping along. It is time to move up. We have package installation prices including new strings, battery, all labor and the pickup! Call us today. 1-888-846-7487 toll free. Ask for Tim

New K&K pickups are now available. We are proud to sell these
fine pickups. Probably the best system ever not to use batteries and will plug into all Hi Z input devices.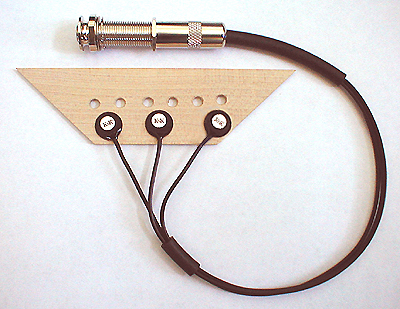 ---
LR BAGGS continue to dominate all acoustic pickup sales. The Anthem pickup is just amazing. The Session VTC is in stock and is a must for acoustic guitar performers. Call us today for more information and special installation pricing when purchased at our shop. We are expecting great things with the new Lyric pickup in steel or classical.
Soon new products coming from LR Baggs!



---



---
Taylor Guitar Repair Summit
Eight very talented repair technicians from all over the USA got together to share ideas and learn about many new models coming from Taylor this fall. The group was installing expression systems, resetting necks, fretting, assembling entire guitars, and most of all learning about UV Cure Finishes. Our instructor Rob was fantastic and made the week one of the best training courses I have personally ever attended. I will be setting up a new UV Cure lacquer area in our existing finish booth so the speed of lacquer work will be light years ahead of what we have been currently dealing with. Stay tuned for updates about the upcoming changes.
WE ARE NOW A GOLD CERTIFIED TAYLOR GUITAR SERVICE FACILITY!
WHAT ABOUT AMPLIFIERS?
Remember that we are the Original JF Naylor amp dealer in Louisiana. These boutique amps are the finest point to point heads and combo units we have ever sold. Their cabinets use the incredible Joe Naylor designed 12" and 10" speakers. Come by and play mine if you are not familiar with this incredible amplifier.
OTHER AMP NEWS! EGNATER TUBE AMP HEADS AND COMBO AMPS ARE HERE!

WE NOW HAVE A TOP ELECTRONICS TECH THAT CAN REPAIR TUBE AMPS, SOLID STATE

AMPS, PA EQUIPMENT, KEYBOARDS, AND ALMOST ANYTHING YOU CAN BREAK.